Under the FairTax, all the controversy in the news today, from IRS abuse, to tax favors, to tax punishments, will disappear. Gone! The immense size of the IRS? Gone! The immense cost of compliance to taxpayers? Gone!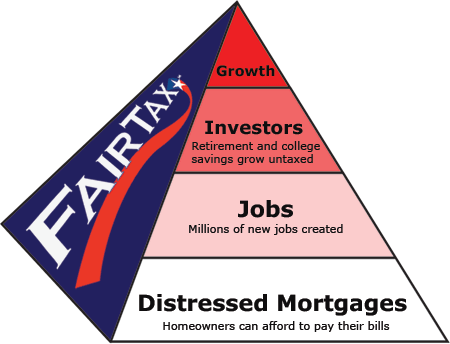 The term "take home pay" becomes obsolete. No more federal deductions. You take home everything you make. Can you handle that? Oh, and April 15th becomes just another day in paradise.
Under the FairTax, other terms like "tax exempt status" and "mortgage deduction" also become obsolete. Under the FairTax, no contributions you make or receive are taxable. And since your mortgage payment will now be made in 'pre-tax' dollars, you have nothing to deduct your mortgage interest payments from.
All the taxes you and businesses are paying now? Gone! What's left is a simple, transparent, and fair consumption tax. Period. Fair to individuals and business. The FUD factor disappears. Business and individual investment decisions no longer include factoring in the Fear, Uncertainty, and Doubt about tax consequences because those decisions become tax neutral.
The motivation to shelter trillions of dollars offshore disappears. That money can stay right here and be put to work without any tax penalty. All by itself, the FairTax is an economic stimulus that doesn't involve spending, borrowing, or increasing the national debt.
The FairTax is the means to fund the government whose time has come.