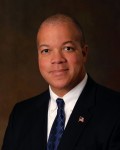 Mike Hill (R), president and founder of the Northwest Florida Tea Party and a 2010 Republican Primary candidate for the Florida Senate, won the Republican primary for the House seat left vacant after the death of Rep. Clay Ford (R),  in a primary election Tuesday. The general election will be held June 11 for the vacant seat.
According to the Miami Herald, "If Hill wins the seat, he would become the only African-American Republican currently serving in the Legislature."
Mr. Hill won by nearly 2 to 1 over the second place candidate.
Congratulations to Mike Hill for winning his first election to public office. And many more!
Unofficial results HERE.

ALL RESULTS ARE UNOFFICIAL UNTIL CERTIFIED
Initial unofficial results include all early votes and absentee votes.
"Precincts Reporting" will be updated as election day returns are processed.
43 of 43 Precincts Reporting
STATE REPRESENTATIVE DISTRICT 2 (REP)
---
Candidate
Votes
Percentage
Mike Hill
3,140
46.50 %
Ed Gray III
1,811
26.82 %
Mark Taylor
700
10.37 %
Jack Nobles
644
9.54 %
Scott Miller
360
5.33 %
David Radcliffe
97
1.44 %
---