The community-organizer-turned-President is at it again. Before an audience of college students in Mexico, he blames the United States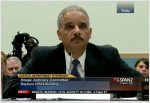 for Mexico's drug and gun violence. All without mentioning his Justice Department's 'Fast and Furious' gun running program, responsible for arming and killing hundreds, if not thousands of Mexicans, in Mexico. Not to mention one of our own border patrol agents.
Speaking in campaign mode, his usual posture, the President accepts zero responsibility for everything he is blaming his country for. Stop the insanity. Just stop it.
President Obama . . .
"And we also recognize that most of the guns used to commit violence here in Mexico come from the United States. (Applause.) I think many of you know that in America, our Constitution guarantees our individual right to bear arms, and as President I swore an oath to uphold that right and I always will. But at the same time, as I've said in the United States, I will continue to do everything in my power to pass common-sense reforms that keep guns out of the hands of criminals and dangerous people. That can save lives here in Mexico and back home in the United States. It's the right thing to do. (Applause.) So we'll keep increasing the pressure on gun traffickers who bring illegal guns into Mexico. We'll keep putting these criminals where they belong — behind bars. "
"That's why today, I have directed the FBI to arrest Attorney General Eric Holder." No, he didn't say that. But he should have.
Fact is, because Mexico is such a corrupt and backward country, most of a lot of good things in Mexico come from the United States. Including Mexico's second largest foreign revenue source, nearly $2 Billion in remittances. That is money mailed or wired back to Mexico from the United States by Mexicans living in the United States.
The Obama administration is still silent on Fast and Furious and that investigation. Just as the New York Times is silent about the President's pandering to all those undocumented Democrats in Mexico.