In his opening statement, Ranking member of the House Oversight and Government Reform Committee hearings on Benghazi, Elijah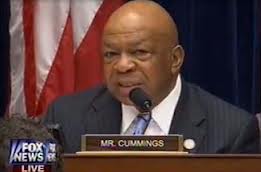 Cummings (D-Md.) explained the purpose of the hearings, which was to expose the cover-up committed by the State Department and others. The cover-up that was executed for political, not criminal, purposes. It was an attempt to prevent damage to the administration and Secretary of State Hillary Clinton's political future. The extent they would go to do that included lying to the American people and to the survivors of four dead Americans. Americans need to have some confidence that they won't be lied to by their government, for any reason.
It follows that an investigation of a political cover-up is going to be political. Not by those wanting to find the truth of what happened in Benghazi and in Washington before, during, and after the September 11th attack. But to those not wanting the truth to come out.
Pertinent part of the Cummings transcript . . .
I am not questioning the motives of our witnesses, I am questioning the motives of those who want to use their statements for political purposes.
From the lack of media coverage of the hearings, it is apparent that the media has staked a position instead of reporting events as they unfold. There is absolutely no curiosity to get to the bottom of conflicting reports surrounding the attack. They have too much at stake already in the success of this administration because now, they are willing participants in the cover-up as well.