Never ceases to amaze the hubris of some who assume the role of our Maker. Some command to lower sea level and adjust the world's thermostat, others, like the U.S. Fish and Wildlife Service, refuse to take NO for an answer where rodents are concerned.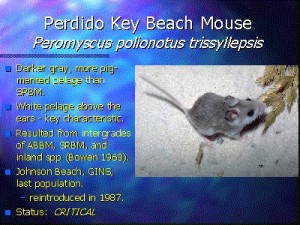 The Perdido Key beach mouse, was wiped out naturally and was "re-introduced" in 1987. And again, it was wiped out naturally by hurricane Ivan. Not to be outdone by mother nature, the mouse has been captive bred since then. And people who are supposed to be environmentalists are about to infest the environment, Perdido Key, with a rodent that has twice proven it can not sustain itself, its survival rate is zero, in an environment where people have a survival rate of 100 percent.
And this makes sense to who? For this reason the U.S. Fish and Wildlife Service wins the Most Ridiculous Item Of The Day award.