Unfettered by failure, and with a memory shorter than sixty days, Secretary of Defense Chuck Hagel and Maj. Gen. Bennet Sacolick, director of force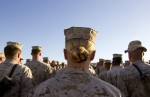 management for U.S. Special Operations Command, are seemingly willing to lower standards in order to put women in the most physically demanding of military roles.
Back in April, the results of this experiment proved that women in the most demanding roles can't cut it. No shame there. Just a fact of life.
Link: Two more female Marines flunk infantry officers training  |  Military plans would put women in most combat jobs