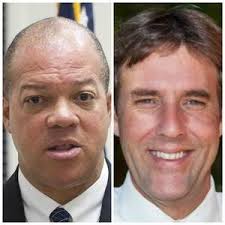 There's been a special election underway, early voting began last Saturday, for a Representative for Florida's District 2. The Pensacola News Journal and their editorial board both (both? don't know what the difference could be) endorse the Republican candidate Mike Hill.
The candidates; Mike Hill (R), small business owner and founder of the Northwest Florida Tea Party who also happens to be Black, and Jeremy Lau (D), aircraft mechanic and labor union leader who happens to not be Black, are vying for your vote.
The vitriol in the comment sections in the PNJ directed against Hill are all too commonplace. The fact that Lau is also a labor union leader brings out the union thugs to gang up on him in the comment sections.
I support Mike Hill. Your mileage may vary. But I'm inviting all interested to jump in and opine for your candidate, or against the other candidate. For this post only, to facilitate the unabridged rudeness and nonsense of the Left, I am suspending the rule of being civil in your comments. You may feel free to behave here like some do on the PNJ's website, or like you normally do.
I'll start it with this statement from an earlier post:
" Do you want someone who will go to Tallahassee to stand up for the working people?" said Raymond Guillory on Mike Hill's facebook page. NO Raymond, I want someone who will go to Tallahassee to stand up for ALL people. Someone who will legislate to create more jobs so more people may work. And that man is Mike Hill. The Democrat candidate Lau, is the labor union's choice. That should tell you who he's looking out for. He's looking out for unions, a small percentage of "working people," and will vote for legislation designed to increase union membership, not more jobs. He'll vote for legislation that will buttress union's underfunded pensions. He'll vote for legislation that is bad for your children's education, but good for the teachers union. And that's not good for ALL the people.