King Salim Shabazz, the leader of the New Black Panther Party Philadelphia chapter was arrested for carrying a loaded and unlicensed gun. Imagine that. He has the words "kill whitey" tattooed on his face. He was also charged by New York police with illegally wearing body armor.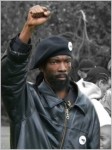 If convicted of possessing the gun, Heath will be sentenced to a minimum of three-and-a-half years in jail. On June 26, he is due back in court to find out if he'll face charges of gun possession and illegally wearing body armor. Currently, he is being held in place of $75,000 bail.
Of course, if Attorney General Eric Holder had not let him, one of 'his people', go in the Philadelphia voter intimidation case, he would have been cooling his heels in jail instead of on the streets with an illegal weapon. Thank you Eric Holder for your open door policy. Tends to make one furious, fast.
The thug's "real" name is Maruse Heath. Apparently, the Black KKK get special dispensation with unequal justice under the law.
Where's the surprise, that with all the gun control legislation that exists in New York, criminals still have guns. Anxious to hear what new laws Eric Holder or President Obama have in mind that can prevent people like him from getting a weapon and carrying it illegally. I guess the first thing to do is to have the IRS, NSA, and FBI investigate all members and sympathizers of the New Black Panthers, photographing any tattoos suggesting racial hate crimes, racial slurs, and violence. Determine if any of them have weapons illegally, and prosecute to the fullest extent of the law any violations they might find. Then hope the justice department doesn't dismiss the charges and let them go.
Will we be hearing from Mayor Bloomberg demanding this thug be sent to jail and kept there? Yeah right!
via "Kill Whiteys" Tattoo And Loaded Gun Found On Black Panthers Leader // Mr. Conservative.