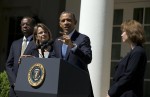 Opening a summer showdown with Congress, a combative President Barack Obama nominated three judges to a powerful appellate court Tuesday and challenged Republicans to stop the "political obstruction" holding up his nominees. Obama said "There's no reason, aside from politics, for Republicans to block these individuals from getting an up-or-down vote."
Tell that to the hundreds of conservative non-profit applicants that passed through two election cycles and are still waiting. I feel your pain Mr. President.
Link:Obama nominates 3 to appeals court, testing GOP – Yahoo! News.