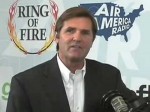 Was checking in to one of my favorite liberal, progressive, downright wacko websites, the Ring of Fire1, to see what they had to say about the IPCC (International Panel on Climate Change) report on climate change. Who according to them, is the world's authority on the greenhouse effect.
I previewed the report in a comment on one of their posts a few days before its release. Where their scientists had to admit that there has been no global warming in the last seventeen years.
Harken back to 2007 when the global warming nuts were saying that the arctic ice would be gone by 2013. When in fact the arctic ice grew by 29%, over a half million square miles, in the last year.
But alas, not only is my comment gone, but all comments are gone (not that they had very many in the first place). In fact, they have disabled comments altogether. So now, the Ring of Fire has been reduced to a blow torch. No ring, no two-way. Like Obama himself, no negotiations. Just fun food for their lemmings.
On slow news days, the big lawyers post about big lawsuits against big pharma, big energy, and whoever else has big, deep pockets.

1 The Ring of Fire is a Liberal (they'll say Progressive) talk radio show, co-hosted by Attorneys Mike Papantonio and Robert F. Kennedy Jr., and another lib named Sam Seder. The Ring of Fire is unique in terms of a talk radio show in that they don't take calls live. Like Obama, they screen all questions emailed to them or left on their answering machine. Lord only knows what happens after that. Their show is scripted to pump out whatever liberal blather is on their page, regardless of what is going on in the news of the day. They really have a mis-named show. Not unlike Obamacare being called affordable. There is no 'ring' left in the Ring of Fire. They are unique in another way too, compared to 'America's Anchorman.' They are not supported by advertisers. They don't have a product anyone but other law firms want to be associated with. If they were 'supported' by advertisers, their show would have died when Air America Radio died, when its founder and Papantonio grew tired of personally footing the bill.