President Obama certainly is enjoying HIS government shutdown. To be sure, it is his and Senate majority leader Harry Reed's government shutdown.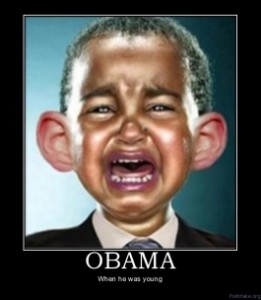 Beginning with how he despises America so much as to smother it in debt and unaffordable so-called entitlement programs while breaking and selectively enforcing laws, some of which (Obamacare) are of his own making.
And now, in response to Republicans in the House to wanting to put an end to this reckless and lawless administration, to return the country within the bounds of the constitution and fiscal sanity, President Obama is governing by his temper tantrum. Described by one Park Ranger succinctly, "We've been told to make life as difficult for people as we can. It's disgusting."
No surprise here! It's what community organizers do.
Things like this is what our childish and vindictive President is responsible for . . .
Blocking access by WWII veterans (and everyone else) to the WWII Memorial.
Blocking access to roadside view parking to Mount Rushmore.
Blocking access to the Matrin Luther King Jr. Memorial. An unstaffed, open at all times Memorial.
Blocking access and evicting people (senior citizens) from their private residences around Lake Mead.
Blocking access to the parking lots at Mt. Vernon. The home of George Washington, is privately owned by the Mount Vernon Ladies' Association. But the parking lots are jointly owned by the Mount Vernon Ladies' Association and the Park Service.
Blocking access and use of the Ocean. 1,100 square miles of Florida Bay. The area between the southern tip of Florida and the Florida Keys is a prime fishing area.
Shutting down the Amber Alert website. During the shutdown, they have a link pointing to the National Center for Missing and Exploited Children (NCMEC) "to serve in a clearinghouse capacity for the AMBER Alert program and to aid in the dissemination of AMBER Alert information."
They did not shut down Michelle Obama's Let's Move website.
The golf course at Andrews AFB, where Obama plays, remains open.
This is the tyrant you were warned about. This is what you get when a media refuses to vet a presidential candidate. You elected a community organizer. You got a community organizer. Only on a national level.