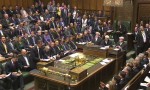 Great Britain's Prime Minister David Cameron called a special session of Britain's Parliament to discuss growing tensions in Sirya and President Obama's call for military action over the use of chemical weapons, ostensibly used by the Syrian regime on its own people.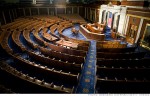 President Obama, on the other hand, demonstrating his lack of leadership in not calling Congress back from vacation for a special session, is now talking about going it alone. Without a coalition of willing partners and without involving Congress. And so far, without addressing the American people as to what our security interests in Syria are that justifies us getting involved militarily on our own. And also without explaining to the American people the possible consequences of a slap-in-the-face cruise missile attack.
A proposed attack with the potential targets being revealed to the world, including the Assad regime. A military strategist, he is not. Nor, apparently, are the people advising him.
It is this lack of leadership and President Obama's vague, if not non-existent, strategy in the end-game with Syria that has caused all the coalition partners he had last week to drop out. Add NATO to the list of the unwilling. Instead of following the blind, they've taken the position to wait and see what the U.N. inspectors conclude about who it was that used the WMD's outside of Damascus. So far, most people in the U.S. aren't convinced that we are being threatened by Syria to the extent that we need to act unilaterally against them, not only at the expense of our credibility in the world, but at the expense of our ally Israel, who both Iran and Syria said will attack if the U.S. attacks Syria. And certainly not before knowing who will be taking over in Syria. Common thought now is if Assad goes down, alQaeda and company takes his place.
We've already seen it happen in Libya with alQaeda and their affiliates, and in Egypt with the Muslim Brotherhood. Is Obama's ego worth turning over the rest of the middle east to radical Islam and possibly sacrificing the state of Israel?
The time to act militarily has long past. We're not the world's policeman and civil-war-country custodian. They'll have to fight it out on their own, and kill each other until someone wins. Then, and only then, will we know who it is we're dealing with.
Link: U.S. ready to go it alone on Syria after stinging British defeat  |  Obama strike plans in disarray after Britain rejects use of force in Syria  |  NATO CHIEF: NO PLANS FOR ALLIANCE ACTION IN SYRIA