Egyptian security forces have arrested the top leader of the Muslim Brotherhood, pressing a crackdown on his group. Saudi Arabia, Kuwait and the United Arab Emirates know who the enemy is, and have already sent over $12 Billion to support Egypt's military, who is taking the fight to them. The U.S. position under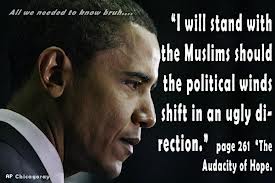 President Obama? Undecided.
He won't say releasing Mubarak, who he help to overthrow, is good. But does say that Morsi (Muslim Brotherhood) should be released. Won't say a peep about the war on Christians in Egypt by the Muslim Brotherhood. Where Egypt's neighbors have stepped up financial support to Egypt's military to take the fight to the 'Hood, to the tune 10 times what the U.S. was committed to, Obama finds himself on the wrong side of the fight, if for no other reason than not being in the fight.
What we have here is the Nobel Peace prize recipient who manages to make the United States the laughing-stock of the world while at the same time alienating the United States from our friends and allies in the region.
If there's anything more the President could do to make the United States irrelevant on the world stage, I'd like to hear it. For the first time in his Presidency, he has finally come upon an instance where 'voting present' isn't an option, and he hasn't the courage to take a stand. It's what 'leading from behind' gets us.
via Egypt arrests Muslim Brotherhood leader Badie: state media – Yahoo! News.