Palestinian gunmen ambushed and killed two Israeli police officers at the al-Aqsa mosque in Jerusalem on Friday, July 14, bringing bloodshed and chaos to a religious site that is sacred to both Jews and Muslims. The attackers were all (Muslim) Israeli citizens of Palestinian descent.
The attackers smuggled weapons into the compound. In an obvious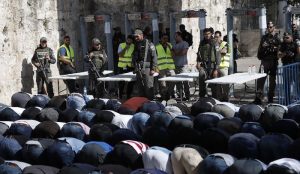 attempt to make the holy site safe, for everyone, including Muslims and Jews, Israel set up metal detectors at the three strategic entrance points. Unfortunately, it comes too late for the two dead Israeli police officers. Had they been installed years ago like exist in Mecca and Medina, they would be alive today.
The reaction to make the site safe has resulted in protests by the Palestinians and like-minded terrorists who just want to kill Jews. Which explains why there are no protests over metal detectors going on in Mecca and Medina. In Israel, Muslims can practice their religion and be citizens. Not so in Saudi Arabia, where Jews are not even allowed in.
The UN, the Pope, and other nations are calling for a de-escalation of tensions. Looking for Israel to submit. Not for the out-of-control Palestinians to shut up and go home. True to form, the Muslim authorities that oversee al-Aqsa said they would continue to oppose any new Israeli-imposed measures. And Palestinian president, Mahmoud Abbas cancelled a planned security meeting after announcing he was cutting all contacts with Israel.
So the Palestinian president, Mahmoud Abbas, does not want a secure holy site either. This should tell you how good a "two-state solution" would work.  They want to be able to kill Jews. Jews don't want to be killed. Where's the common ground?
Funny how the Fake News media doesn't think this story is more important than the flow chart at The White House.
Links: Israel refuses to remove metal detectors from mosque despite rising violence  |  Two Israeli police officers killed by Palestinian gunmen near Jerusalem holy site, police say
UPDATE 7/24/2017: Israel to remove metal detectors at Temple Mount