In a stinging defeat that could accelerate the decades-long decline of the United Auto Workers, employees voted against union representation at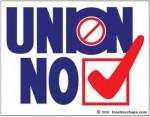 Volkswagen AG's Chattanooga, Tennessee plant, which had been seen as organized labor's best chance to expand in the U.S. South.
Continuing the obsolescence of labor unions that are no longer needed or wanted. That's good news for the workers, the company, and the local economy. And it will be instructive to see how much coverage and the interpretation the media gives this. Where Big Labor is concerned, this is a big defeat.
Link: Tennessee Volkswagen plant votes against union in UAW defeat | Reuters.