No doubt, from the perspective of a community organizer, surrounding yourself with like-minded people is imperative when reaching goals are paramount to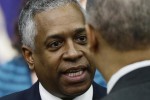 enforcing law. Yesterday, it was the new and unqualified Director of  ICE John Sandweg. Today, it's B. Todd Jones, the new Director for the Bureau of Alcohol, Tobacco, Firearms, and Explosives (ATF).
Before taking over for Melson in a DOJ push to appear to have done "something," Jones was the chairman of the attorney general's Advisory Committee. He sat in on Fast and Furious calls as early as October 26, 2009 — a meeting Melson also attended. 

As a potential co-conspirator in Attorney General Eric Holder's Fast and Furious gun-running program, Mr. Jones has a vested interest in keeping 90,000 documents on the Fast and Furious plot hidden from congressional investigators.
See, it's not about following the law, or transparency. And there won't be any 'smoking gun' documents that point to a coverup. That is inbred by the appointments themselves.
Link: What the Mainstream Media DIDN'T Tell You about Obama's New BATFE Director