The Supreme Court has ruled that it was bad for the state of Arizona to require proof of citizenship for voters. In a serious country, this wouldn't even be an issue. And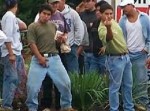 it isn't—in Mexico.
Learn how Motor Voter (1993) was so important to voter fraud and, why the Supreme Court still prohibits States to show proof of citizenship to vote.
Link: Memo From Middle America | How Come Mexico Can Require Voters To Prove Citizenship And Arizona Can't? | VDARE.com.