David C. Kernell, 21,was sentenced to a year in a halfway house for his hacking into Sarah Palin's Yahoo email account. His defense said he has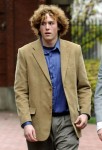 suffered from depression since he was 11, and that's why he is being sent to a halfway house, where he can get some mental health care. David is the son of son of veteran state Rep. Mike Kernell, D-Memphis.
Sounds like a classic case of BDS (Bush Derangement Syndrome?)
Link: Pensacolanewsjournal – Palin e-mail hacker sentenced to year in custody.