Rep. Alan Grayson (D-FL), the man who made a fool of himself and his party when he said on the House floor that the Republican health car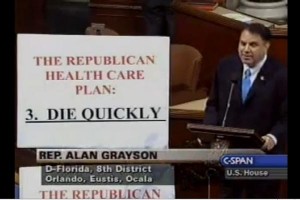 e plan
was for sick people to die quickly, was voted out of office on Tuesday. Voters in his district decided it was his representation that they wanted to die quickly. They elected Daniel Webster, a Republican 56% to 38%.
He has an explanation as to why he lost so big. He said it was because Democrats were too appeasing to Republicans over the last two years. What? I guess that if by appeasement where Obama's signature legislation is concerned, Obamacare, you mean that you shut out Republicans from any input in the creation of the bill and not allow any amendments, then yes, they were appeasing.
I'm not a doctor, but I've seen doctor shows on TV. And it seems to me that Alan Grayson needs some counseling for Post Election Stress Disorder.