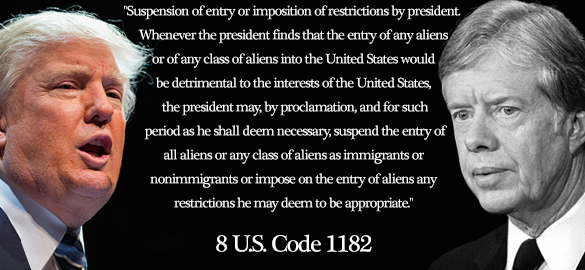 This law was written in 1952.  It was passed by a Democrat-controlled Congress, House and Senate, and signed by a Democrat president…  Everybody in the establishment in the political class, Republican, Democrat, media, you name it, is all claiming that what Trump said is dumb, stupid, reckless, dangerous, unconstitutional, while it is the law of the land.  And it was utilized by Jimmy Carter, no less, in 1979 to keep Iranians out.
In November the 1979 United States attorney general had given all Iranian students one month to report to the local immigration office. Seven thousand were found in violation of their visas, 15,000 Iranians were forced to leave the United States, 1979.
A direct quote from the law:
(f)Suspension of entry or imposition of restrictions by President
Whenever the President finds that the entry of any aliens or of any class of aliens into the United States would be detrimental to the interests of the United States, he may by proclamation, and for such period as he shall deem necessary, suspend the entry of all aliens or any class of aliens as immigrants or nonimmigrants, or impose on the entry of aliens any restrictions he may deem to be appropriate.
Links: Trump's "Nutty" Proposal Is Already the Law of the Land — and Was Used by Jimmy Carter During the Hostage Crisis | 8 U.S. Code § 1182 – Inadmissible aliens