Imagine being in your 9th grade geography class and talking about different climates associated with different locations. Like what happened in a school in Spain recently.
The teacher was giving a normal lesson about the different climates on our planet, and he used the locality of Trevélez [Granada] as example of a cold and dry climate. For an anecdote, the teacher explained that precisely this climate was best for the curing of hams. Then the student demanded of the teacher, "Don't speak about hams," because this subject was offensive for him as he is a Muslim.
This is going way beyond political correctness.  There seems to be some kind of new Muslim supremacy being taught nowadays that kids would even think of such an absurd claim.
I wonder if we're not looking at the Muslim version of the KKK?
Which picture is more offensive to you?
This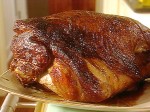 or this?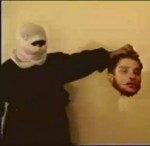 Link: Spanish Muslim Traumatized by Ham.
Update: 16:04, There's show on the travel channel right now about bacon. I think it's called 'Bacon Paradise.' Ahhh. Fit for a Prophet.