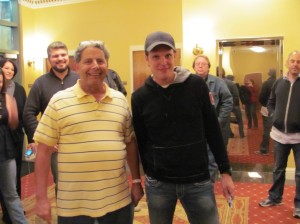 Had the privilege of meeting my favorite guitarist, let alone favorite blues guitarist, today. And am psyched to be seeing his show at the Saenger Theater a few hours from now. Whether I will be the oldest fan there remains to be seen.
I had the chance to confirm what I had suspected, if not hoped for, today when I had my chance to talk to Joe. I remember seeing a young guitarist who was in the opening act at a Steve Winwood concert back in the early 90's. This kid was around 15 or 16 years old. The opening act for Winwood was a group called Tesla. Like a lot of opening acts, I had never heard of them, but the guy I went with was there to see them instead of Winwood. I of course, being much older 🙂 was there to see Winwood.
Anyway, this young guitar player was amazing. He played way beyond his years. Seeing this video of Joe jogged my memory of the guitar player who guested with Tesla. Joe confirmed for me today that he did play Philadelphia and he did play with Tesla back around that time. So it seems I had my own back-to-the-future moment today. That was a rush. Tonight will be another.
Update 12/2/2010: Some stills from the show.
[nggallery id=27]