I'm afraid that the "tax reform" in the works is not going to be the game changer needed, the FairTax. The politicians are not willingly going to give up the Tax Hammer. It gives them too much power and lines their pockets with campaign cash. It is up to we the people to demand it.
Enactment of the FairTax would be the greatest transfer of power from the government back to the people since the Declaration of Independence. Instead of paying 39% of what you earn, you'll pay 23% of what you spend, and keep all that you earn. Because your gross pay will be your "take-home" pay, the FairTax will be an economic generator and job creator for people, big and small business. All the while still generating the same amount of money to fund the government and its programs.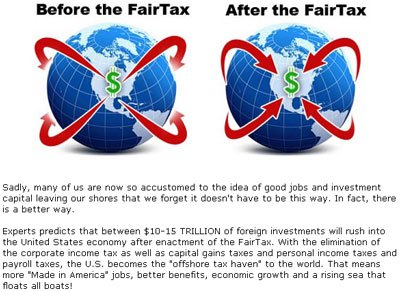 Just how can the FairTax be revenue neutral compared to the current income tax? Simple really, when you consider that the tax base expands from just those lucky ones who have jobs to everybody within our borders who purchases any new good or service.
With no tax returns to file, aside from eliminating the need for the IRS, the FairTax will end tax fraud like this; Three Indicted in Florida for Using Stolen IDs to File Tax Returns Claiming More Than $6.8 Million in Fraudulent Refunds.
Here's a great presentation of the FairTax from the guy who wrote the book on it, Neal Boortz
Neal Boortz podcasts, like this one graciously lifted from yesterday, are available on ConnectPal for a paltry $4.99/month.