Making the case for ending public sector labor unions is the strike by the transportation union in San Francisco.
The strike will derail the more than 400,000 riders who use the nation's fifth-largest rail system and affect every mode of transportation. Transportation officials said another 60,000 vehicles could be on the road, clogging highways and bridges throughout the Bay Area. Not to mention the environmental impact from more vehicles on the road. All of a sudden, the SEIU isn't so green.
The unions, which represent nearly 2,400 train operators, station agents, mechanics, maintenance workers and professional staff, were asking for a 5 percent raise each year over the next three years. BART said that train operators and station agents in the unions average about $71,000 in base salary and $11,000 in overtime annually. The workers also pay a flat $92 monthly fee for health insurance.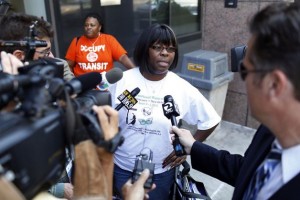 Antonette Bryant, president of Amalgamated Transit Union Local 1555 says "Our members aren't interested in disrupting the Bay Area, but management has put us in a position where we have no choice." After all, they are really being put upon.
Who in the private sector got a 5 percent raise last year, and the year before that, and the year before that? That's what they are on strike for. They are demanding a 5 percent raise each year for the next three years. It's not like they're making $40,000 a year for operating a train or selling tickets. No. They're making $71,000 a year, not including an average of $11,000 of overtime. Are you paying $92 a month for your health insurance policy like they are? $82,000 a year for operating a train and selling tickets, and they have the nerve to strike and demand that taxpayers pay them more?
Why does the SEIU think that they deserve to be paid better, and have better benefits, than the people forced to pay their exorbitant cost? More to the point, isn't it time to put an end to the use of organized labor in city and state government?