And in the 'you've got to be kidding' department comes this from our Dept. of Labor.
Migrant and seasonal farmworkers experiencing chronic unemployment and underemployment will soon have opportunities to upgrade skills or prepare for new occupations.
By definition, if you're a "seasonal" "farmworker," doesn't that make you gainfully employed? You know, the lie that they are doing work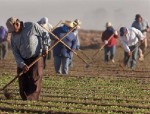 that Americans don't want to do. What's next, a living subsidy support program (with cell phone) for the non-growing season? After all, why should 'migrant' workers have to migrate somewhere where crops are growing? Targeting migrant workers, an entire class of people coming under the microscope in the big illegal immigration debate, looks an awful lot like $9.6 million dollars of street money, courtesy of the 50 percent that pay taxes, for some who aren't even citizens.
From the DOL's press release . . .
$9.6 million is available for grants to operate the program in central California, Hawaii, Indiana, Michigan, Mississippi, New Jersey and Puerto Rico.
I know there are 8.5 million Americans who are out of work or underemployed. How about we concentrate our efforts there, growing the economy so they can get their job back?
Link: US Department of Labor announces grant competition to provide career training to farmworkers