Click

HERE

for the latest updates on the Pensacola Indoor Shooting Range.
The people at Pensacola Specialty Pawn (850) 432-9050), near Pace Blvd & Fairfield Dr., are planning on opening a 10-lane indoor shooting range on their property around June-July mid to late September 2013.  They have changed the site from the pawn shop site to a spot on North Palafox, Rt. 29, the former site of Leisure Time RV. Seems to me to be a better location from an accessibility, if not safety, standpoint. They are capping membership at 500 members.  Members can go anytime. Non-members can go when space is available. Their annual membership pricing is: Patriot (first responders & active/retired military) $199.99, Individual $299.99, Family (2 household) $399.99. Non-members $20 per hour.
Some new features (new to me anyway) at the range will be a closed circuit TV setup for each lane. There will be ten lanes. No matter where you put your target, which is adjustable right from your shooting position, there are two cameras in operation. One on the target, and the other on you. No need to get out the binocs to see where your bullets went. The camera system is focused on your target no matter how far downrange you put it. Another cool thing is that in another room, out of the shooting room, monitors will be there for your party (or whoever) to see you in action, in split screen (you/target), uh, for better or worse.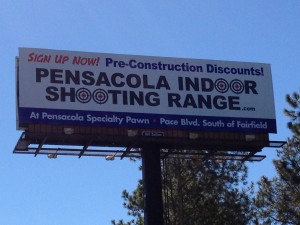 Personally, I'm glad to see this new business. Glad to see any new business for that matter. I miss the range on 'W' Street. Compared to an outdoor range, it is a little pricey. But you really can't compare the two venues on price alone. Each have their own 'value' to the shooter, and their own limitations. But there is value in weather protection and convenience and proximity to the city, something an outdoor range can not offer.