On November 2, 1983, Republican President Ronald Reagan signed the bill in the White House Rose Garden making the Birthday of Dr. Martin Luther King,

Jr. a national holiday. The bill first came up for a vote in 1979, but the Democrat-controlled US House of Representatives refused to pass the legislation. The first national celebration of the holiday in honor of Dr. King took place on January 20, 1986 and is celebrated on the 3rd Monday in January. In his remarks on signing the bill Reagan said: "Dr. King had awakened something strong and true, a sense that true justice must be colorblind, and that among white and black Americans, as he put it, 'Their destiny is tied up with our destiny, and their freedom is inextricably bound to our freedom; we cannot walk alone.'"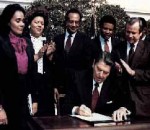 The Martin Luther King, Jr. Federal Holiday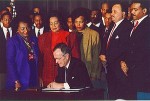 Commission with the mission of overseeing the observance of the MLK holiday was created in the bill signed by Reagan.
In May 1989, Coretta Scott King was made a member of the commission for life by Republican President George H. W. Bush.
http://www.youtube.com/watch?v=CZWXmoC5CYw
Democrats today are trying to usurp Dr. King's legacy, when it was the Democrats who Dr. King was fighting.