A South Carolina man who twice pleaded guilty to having sex with a horse (the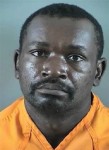 same horse) has been released from prison after 16 months and ordered to stay away from the stable where the animal lives.
It is not clear whether Vereen has to stay 1000 feet from barns, race tracks, and State and County Fairs.
Probation officials said Monday that Rodell Vereen, 51, was let out of prison March 1. He must continue to register as a sex offender.