Couldn't help but notice on Charlie's website that next week he will have Iranian President Mahmood Ahmadinejad on his show. Or as Charlie puts it, the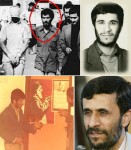 President of the Islamic Republic of Iran.
Anyone who gives that terrorist the time of day is giving too much. Anything he does on camera in this country will become his propaganda, which the left has no problem whatsoever in producing. They usually call that being patriotic. Especially when Charlie agrees with him that we shouldn't be in Iraq, war for oil, Bush, Cheney, Halliburton, and of course, but not limited to, Abu Ghraib. The nutroots will be sure to watch and learn.
related link | Ahmadinejad And Ground Zero