Obama Regime Passes Iraq Off To Russia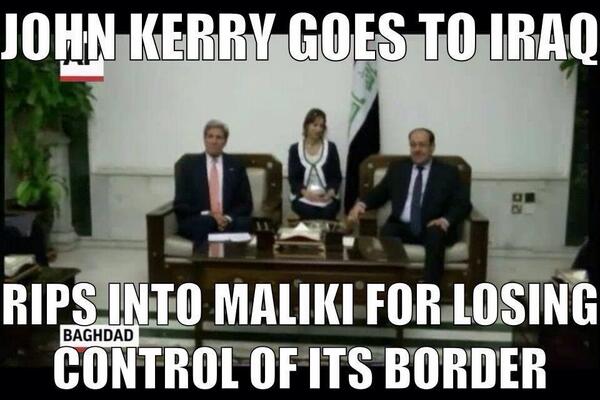 US Secretary of State Kerry's visit to Iraq comes after radical Sunni militants gain control of the Jordanian border, which, after the loss of the Syrian border, is piling pressure on Iraqi Prime Minister Maliki. (Image captured from a Reuters TV video clip) Iraqi prime minister Nouri al-Maliki could just do what Obama did and say, hey, they are Iraq's future.
Ripping defeat from the jaws of victory, by virtually abandoning Iraq, and refusing Maliki's request for air support when the invasion was starting, and refusing to sell jets to Iraq so they can defend themselves, the Obama regime just handed Iraq over to Russia. Putin is all too happy to sell Iraq the jets they want and to expand their reach into the oil-rich region. And the sacrifice the United States made in blood and treasure is all for naught. And we have no one else to thank but our community organizer president Barack Hussein Obama, Mmm Mmm Mmm.

Timelapse video of Philadelphia, sort of  from its beginning.
This sarcastically titled video is worth watching. Not just from the technical aspect of it, but if you're from Philly, it will bring back a lot of memories. Well, good ones I hope.

When the time is right, will you be ready?
There are so many commercials on TV for ED (erectile dysfunction) that are getting downright boring to watch. A couple sitting in their own bathtub looking over a sunset. Another couple grinning at each other while doing yard work. You've seen them. Seems like a topic ripe for a SNL skit. But would they do it?
There is a whole other market that is being ignored. How long before we start seeing ads that cover couples like these?