While searching for the transcript of Egyptian President Hosni Mubarak's statement today, which turned out not to be his resignation, I came upon one of the Obama administration's targeted Google ads in the story of Mubarak's statement. Which does show perfectly well where our president's priorities are. Instead of Egypt, they seem to be more in salvaging his radical agenda and poll numbers. 
How does the Obama administration buy ad space on Google to undermine the will of the people? Look at this screensave on the Times of India website.
Official Obama Website : www.BarackObama.com – Barack Obama needs your help to change Washington. Sign up today!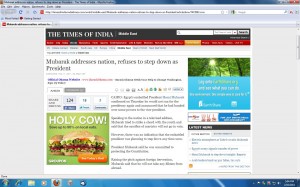 Just another crisis that he is not letting go to waste.
Responding to Obama's several statements about Egypt, without naming him,  Mubarak said . . .
"I am not embarrassed to listen to the youth of my country and respond to them," he said. But he added that he would never "accept diktats from abroad" – referring to increasing international pressure for him to quit.
Which makes this post even more relevant: Should The President Resign?