You've seen them in Berkely, in Charlottesville, and in Durham. I'm speaking of groups like Antifa, formerly of the "Occupy" generation, only more violent. Funded in part by George Soros funded groups. Rent-a-mob for all practical purposes.
Rewind to 2008, when the country was so full of hope and change. Americans elected the first Black president. Americans thought, wrongly so, that this would be the end of racial strife and we could all relax. Eight years later, Democrat presidential candidate Hillary Clinton lost to an outsider. Not just an outsider, a Republican outsider.
Blaming everyone but herself for her loss, Hillary was a most ungracious loser by launching what she called "The Resistance." And, soon to be joined by President Obama.
Since then, Democrats have played the race card on a daily basis, and, every other sub-set of society they can delineate card. And what better way to exploit Race than to attack Robert E. Lee, a Confederate general who opposed both slavery & secession–to symbolize the evils of slavery & secession.
The result, civil unrest. Democrats thrive on it. They incite it, and if all hell breaks loose, it is somehow justified.
Tom Perez, the new head of the Democratic National Committee, did his part to incite unrest by this email he sent out Tuesday night. After President Trump's third condemnation of the violence, Perez blasts an email (below) from the DNC.
Don't hold your breath until someone from the Fake News Media puts a mic in Sen. Schumer's (or Obama, Clinton) face and asked to comment on Chairman Perez's lie about Trump and calling for democrats to "Rise and organize." And, in light of the civil unrest going on in the country, does he think it is responsible to encourage violence?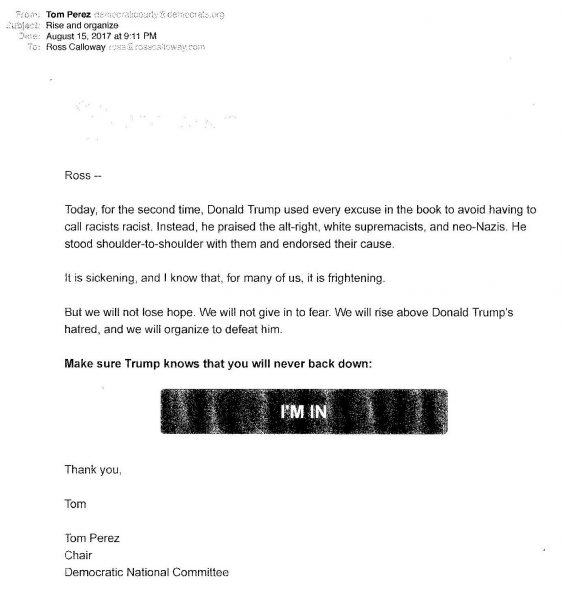 In light of what's going on in Pensacola today about removing a Civil War Era monument, don't be surprised if the Clinton/Obama/Perez/Soros inspired anarchists arrive in Pensacola some day.