Who knew there was a reptile show at the Pensacola Interstate Fairgrounds over the weekend? Well I didn't. I went there to pick up a deal on a laptop, which I think I did. Turns out that ReptileCon was also there in a different building.
Curiosity getting the best of me I checked out what the heck that could be. If snakes, spiders, turtles, alligators, and lizards turn you off, you don't want to be there. And of course, there were vendors selling food for same. From live worms and crickets to frozen mice, chicks, and rats.
If you ever wanted to buy some of these for pets, then this is the place that has a selection you probably won't find anywhere else. All kinds of snakes, spiders, and turtles for sale, with or without tanks to house them.
Some people attending brought their pets with them to show them off.
All the vendors had their 'merchandise' out there for you to see, and hold.
There was a 'demonstration' area or more correctly an education area where people brought out some samples and discussed them. That was interesting and a favorite of the kids, of all ages.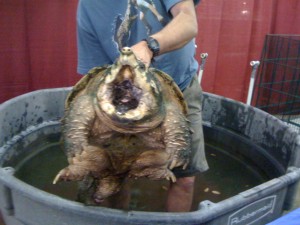 Then there's this 100 pound snapping turtle that could take a limb, or your whole head, in a flash.
Maybe it has something to do with the pets, but some of the people there were also free-spirited. Like this woman who showed off her tats for a picture.