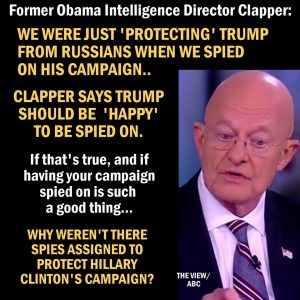 Clapper admits to spying on Trump campaign. It was illegal spying on Americans for political purposes.
Know how you can tell? They didn't similarly "protect" Hillary's campaign. And more important, they didn't warn the Trump campaign about what they were doing. If trying to get the Russians was their game.
The DNC computers were said to have been hacked by Russians. Or was that an inside job?  We'll never know for sure because the FBI did not take the computers for forensic investigation. The FBI let the DNC, at the DNC's request, have their computer checked by the tech company they have a relationship with. Isn't that special?  Bottom line, the government never proved that the Russians hacked the DNC's computers. Or that they were even hacked. Now there's no evidence to look at any more.
What's the difference here? Was the DNC "hack" done by good Russians and the excuse for spying on the Trump campaign, on into his presidency, was looking for bad Russians? Hell no. It's about taking out Trump, like it has always been.
What's the same here? We are supposed to take the word of the FBI/DOJ, with no evidence of either.
Related Link: In Politicized Justice, Desperate Times Call for Disparate Measures