More than just a co-founder of the FairTax. Leo Linbeck, Jr. was a visionary and philanthropist. It was his efforts along with two other wealthy friends, Robert McNair and Jack Trotter, that shared the vision of a tax system that was fair, simple, transparent, and conducive to economic growth. Never before has anyone thought that a tax system, by definition, could be conducive to economic growth. It was their joint efforts, and their $22 million that paid for the years of research that ultimately ended up as the FairTax. The most thoroughly researched tax system that treats taxpayers with respect, and none of it done with taxpayer dollars.
Statement from Americans For Fair Taxation® on the passing of chairman and co-founder
Leo E. Linbeck, Jr.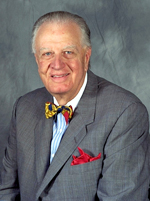 FairTax® giant devoted the past 20 years to championing fair and transparent federal taxation
HOUSTON, TX – June 8, 2013 – Americans For Fair Taxation® (AFFT) announced today the passing of its Chairman and Co-founder Leo Edward Linbeck, Jr.
"The American people have lost a giant who championed simple and fair taxation for everyone," said Cynthia T. Canevaro, AFFT national campaign manager. "Leo Linbeck, Jr., has devoted 20+ years passionately advocating for fair and transparent federal taxation for all citizens regardless of income or social standing.  He was committed to replacing the income tax, a system that favors special interests while punishing taxpayers at every level, with a national consumption tax that taxes citizens not on what they earn, but on what they spend on new goods and services."  The Plan includes the repeal of the 16thAmendment and the elimination of the IRS.
Linbeck was a nationally known Houston businessman and philanthropist.  He was a longtime Chairman of Linbeck Construction Corp., a firm founded by his father in 1938 and ranked in 2012 by ENR as the sixth largest building contractor in the U.S. specializing in general building construction for the private sector.  At the time of his death, he also served as Chairman of Aquinas Corporation, a holding company for the Linbeck Group.
In 1995, Linbeck joined forces with Robert C. McNair, founder, chairman and CEO of the Houston Texans NFL team, and Jack Trotter (now deceased), to found Americans For Fair Taxation®.  The grassroots organization works relentlessly to build national support for the FairTax®, a national consumption tax plan that treats every person equally and allows American businesses to thrive while generating the same tax revenue as the current four-million-plus word income tax code.
"Leo Linbeck recognized 20 years ago the destructive nature of the income tax and how unfair, overly complex, and impossible it is to administer." said Canevaro. "He poured his time, resources, energy and unwavering passion into advancing the FairTax; a system that allows Americans to keep their whole paycheck while only paying taxes on what they spend, not what they earn."  She added,  "We have truly lost an American hero and Patriot, one whose vision will live on among FairTax supporters nationwide. Our thoughts and prayers are with his wife Bette, the entire Linbeck family and the legion of friends who now mourn his passing."
We at Fair Tax Nation are saddend by the passing of Mr. Linbeck, Jr. We will continue our work to make his dream come true — to pass the Fair Tax.
Marilyn Rickert