People are leaving California at a record rate. By all accounts, the high cost of living tops the list. High taxes, fees, and housing cost have become too much for poor and middle class to handle anywhere near the major cities.
For example, the demand for U-Haul trucks leaving is greater than arriving. In San Francisco, it is $3000 for a 1-way to Dallas. And $1000 for a 1-way from Dallas to San Francisco.
Less talked about is the position California has taken on illegal immigration. San Francisco is a Sanctuary City. California has declared itself a Sanctuary State. Drawing the attention of the Dept. of Justice and AG Jeff Sessions filing suit against State officials.
Aside from the high cost of living, safety becomes an issue particular to sanctuary cities. Safety of the citizens that is. More and more people have had enough of it, and leaving.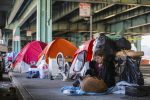 The homelessness in San Francisco is so bad, there is an online map that shows people where the human waste is. Places a tourist might want to avoid. The admin says the map is to call attention to the homeless problem. He sure did, but not in the way he intended.
To where are Californians fleeing? Most are going to right to work states with no income tax. Texas. Florida.
Link: San Francisco Bay Area Experiences Mass Exodus Of Residents  |  California has worst 'quality of life' in US, study says